What is the Fairbanking Foundation?
The Fairbanking Foundation was set up by Antony Elliott, former Chief Risk Officer at Abbey National for more than 10 years, as a natural extension of work he started by writing the report, "Not waving, but drowning: Over-indebtedness by misjudgement", which was published by the Centre for the Study of Financial Innovation in April 2005.
The Foundation is a research-based charity, granted charitable status in September 2008 under number 1125769. The Foundation is funded by donations from interested people, organisations and business, and by fee income from its Fairbanking Mark certification activities and advisory services.
The Fairbanking Foundation has a clear charitable objective: To encourage and assist banking providers to improve the financial well-being of their customers.
---
Our Role
Both the Fairbanking Ratings Report and the Fairbanking Mark product certification programme are well-established in the banking industry.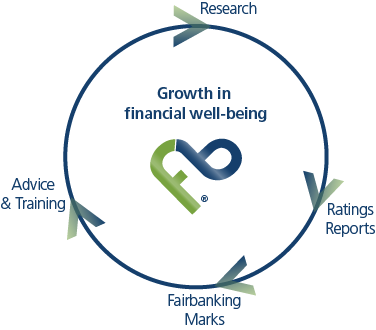 Fairbanking continuous improvement model
From a small start in 2011, as at the end of 2015, more than one third of the UK adult population can benefit from a financial product with a Fairbanking Mark.
Core beliefs
The Foundation has been set up in the belief that banking providers owe a duty of care to their customers and to the country as a whole; that they should act in the 'common good'. As water companies are obliged to provide a product to their customers that is healthy and good for them, so too should banks, building societies etc.
Although the recent banking crisis occurred after Fairbanking was set up, its huge impact on the UK economy and the necessity for vast taxpayer-funded bail outs have served to underline the increasingly widespread view that banks do indeed have a responsibility to act in the common good.
Another cornerstone of Fairbanking's beliefs is that customers who are enjoying improved financial well-being will be happier, more loyal to their banking providers and more likely to buy additional products and services. In turn, banking providers should enjoy much more positive relationships with their customers, leading ultimately to mutual financial benefit.
It is important to note that Fairbanking is not a lobbying body and is not overtly 'consumerist' – its approach is objective and evidence-based and recognises the best outcome in the long term is a market in which the interests of the customer, the banking industry and the country as a whole are appropriately and sensibly aligned.
In progressing our work against this objective, The Foundation firstly carried out extensive research and exploration to formally identify what precisely customer "financial well-being" is and what drives it. The report "Fairbanking: The road to redemption for UK banks" shares the results and conclusions of this work.
Establishing this crucial definition and understanding of financial well-being was clearly a pivotal step and informs all that Fairbanking does in its ongoing work.
---
Established Industry Benchmarks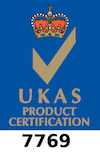 A UKAS accredited certification programme that identifies, validates and confirms products that meet functional standards. This encourages providers to compete to offer the best products.
Ratings reports
An industry-wide, independent survey of the available products, highlighting how well they compare to the Fairbanking standards.
Advice and training
A programme of services to help financial institutions capitalise on Fairbanking research, coupled with the latest thinking in behavioural economics, to create products that better serve customers.