INSTITUTIONS WITH A MARK AND COUNTING
UK CUSTOMERS USE A PRODUCT WITH A MARK
PRODUCTS WITH
A MARK AND COUNTING
5-Star Fairbanking Marks accredited to products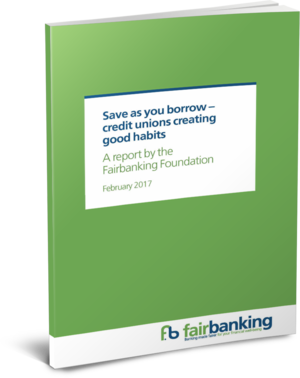 Save as you borrow — credit unions creating good habits.
67% of borrowers who had no savings, and found it impossible to put money aside, now have plans to save regularly throughout the year as a result of using a Save As You Borrow product.
"The Fairbanking Foundation believes that banking providers should act in the 'common good' – that they owe a duty of care to their customers and to the country as a whole. As water companies are obliged to provide a product that is healthy and good for their customers, so too should banks, building societies and other financial institutions. To help to achieve this, the Foundation has been set up as a charity dedicated to encouraging and helping banking institutions improve the financial well-being of their customers." Antony Elliott, OBE, FCIB Chief Executive, The Fairbanking Foundation
The Fairbanking Foundation has been set up, as a charity dedicated to encouraging and helping banking institutions to improve the financial well-being of their customers and thereby the UK public as a whole.

Our work is designed to provide well-researched, independent and insightful new input to encourage and assist in producing financial products that enable people to manage their money better.

The work we do includes:

• customer research to better understand what drives people's financial well-being
• assessment of banking products against this understanding, and publication of results
• the Fairbanking Mark certification scheme  to identify and spotlight the leading products available and encourage competition between providers to offer the best products
• advisory services offered to financial institutions, industry associations and other bodies to encourage the development and improvement of banking products that are helpful to the customer

Our Patrons

The Most Reverend and Right Honourable Justin Welby, Archbishop of Canterbury

Rt Hon John McFall, Lord McFall of Alcluith

The Archbishop of Westminster, the Most Reverend Vincent Nichols

Sir Anthony Seldon
Customer Views
We asked credit union members about their experience of having a loan.
Customer Views
What are some of the key benefits of your financial product?
New products withFairbanking Marks
Find out which UK retail products and Institutions have recently gained a Fairbanking Mark.
Latest Certifications
Latest news from the Fairbanking Foundation
All that is new and noteworthy. Find out what has been going on for us and how it might affect you.
What we are doing
Current Fairbankingresearch and findings
Take a look at the latest research and our findings on the financial well-being of customers.
What we are saying